Congratulations to my client and friend Barbara Fournier on the publication of her first novel. Thanks as well for her kind words about my developmental editing services:
When I completed your book writing and publishing course at Hudson Valley Community College, I felt inspired. I finished the first draft of my novel, but the manuscript was not quite right. I couldn't figure out why. I decided I needed more help for what I was trying to accomplish, so I hired you. You read my manuscript and then sent me a detailed report about the strengths and weaknesses of the story and suggestions for revisions.

As authors, we feel we can write, and we can, but that doesn't mean that what we write is great. So I swallowed my pride and set about going over every detail in that report. I pulled out chapter upon chapter of unnecessary back story. I revised the flow of dialogue. I even corrected basic grammar and punctuation problems that I should have caught myself. Your report came with articles of all kinds to read and learn from. I learned so much from you and your honesty about my work. Of course, many rewrites followed. Then Now Say You're Sorry, my mystery/suspense thriller, was published.

My book is doing beautifully on Amazon.com – all five-star reviews so far – and it is the story I wanted to tell. Readers tell me they cannot put it down and had no idea about the ending. Most readers are looking forward to a sequel, which is in the works. One reader commented that fans of Patricia Cornwell and Sue Grafton need to add Barbara Fournier to their lists of must-read authors. I was overwhelmed.

I will always be thankful for you, Pauline, for believing in me. The building blocks for my foundation as an author began with you. God bless you, my friend.
Barbara Fournier, Author of
Now Say You're Sorry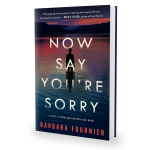 Find Barbara's book on Amazon.com.
Blogger Bio: Award-winning writer Pauline Bartel, M.A., is the author of eight books, including The Complete GONE WITH THE WIND Trivia Book (2nd edition) and Spellcasters: Witches and Witchcraft in History, Folklore and Popular Culture. She helps transform aspiring writers into published authors through book coaching, developmental editing and ghostwriting.