Congratulations to my client and friend Denise Horan on the publication of her first business book. Thanks as well for her kind words about my book coaching services:
For many years, I have wanted to write a book.  The book proposal process seemed long and time consuming.  It would take a back seat on my list of things to do.  Years went by and I knew I needed some help, like an accountability partner, a coach.

I finally hired Pauline Bartel of Bartel Communications to be my book coach.  What a great decision!  Pauline simplified the book proposal process immediately.  She gave me a weekly assignment.  We would have a weekly conference call to review that week's work and discuss the next step.  Pauline was knowledgeable and helpful.  She had experience helping many people before me and had published her own successful books.  I had full confidence in her abilities to assist me.

But it was not only about Pauline's skills and assistance – she was a motivator.  I cherished the constructive criticism mixed in with a great deal of motivation.  I knew she wanted me to succeed.

As a result, I welcomed my first book – Stories from the Sales Field: Navigating a Sales Career in a Post-Pandemic World – thanks to Pauline.
Denise Horan, Principal
Integrated Management & Sales Consulting
www.denisehoran.com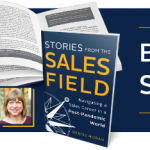 Find Denise's book on Amazon.com.
Blogger Bio: Award-winning writer Pauline Bartel, M.A., is the author of eight books, including The Complete GONE WITH THE WIND Trivia Book (2nd edition) and Spellcasters: Witches and Witchcraft in History, Folklore and Popular Culture. She helps transform aspiring writers into published authors through book coaching, developmental editing and ghostwriting. For further information, contact Pauline via email (pauline@paulinebartel.com).