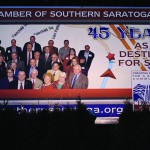 I was honored to be among the 375 guests at The Chamber of Southern Saratoga County's Annual Awards Dinner held last night at the Holiday Inn in Saratoga Springs, NY. For the fifth consecutive year, this business anniversary event was a sell-out occasion with record-breaking attendance.
Serving as master of ceremonies, President Pete Bardunias announced that the Chamber (www.southernsaratoga.org) had reached yet another milestone: a 10% growth in membership with a record 1,024 member businesses.
Contributing to the event's success was the branding theme that Bartel Communications created for the organization's 45th business anniversary:
"Your Chamber: Celebrating 45 Years as Your Destination for Success"
The Chamber has long been the business destination for members in the upstate New York region. Members who have taken advantage of The Chamber's many business-development services have found success, most especially the member businesses that were honored with achievement awards at last night's dinner. And the winners are…
Congratulations to all the award nominees and to the award winners! Congratulations, as well, to The Chamber of Southern Saratoga County during its 45th business anniversary year!
Blogger  Bio: Pauline Bartel, M.A., is President and Chief Creative Officer of
Bartel Communications, Inc., an award-winning corporate communications firm,
specializing in marketing, public relations and business anniversary consulting
services. The firm  created "The Bartel Years™" and "The Bartel Years 200™," rosters of business  anniversary symbols to inspire two centuries of business anniversary
"sell"-abrations. Download free copies of "The Bartel Years™" and the special
report "The Top 10 Business Anniversary Ideas for SELL-abrating Your Business
Anniversary" at this link: http://www.paulinebartel.com/services/corporate-services/business-anniversary-consulting