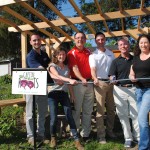 Congratulations to our client Bennett Contracting on the "Building Strong Roots" 100th anniversary community service project undertaken to improve the lives of 52 families in Albany's South End.
A team of employees from the Capital District's oldest and largest full-service home remodeling company designed, built and installed a garden shed and grape arbor in the Lincoln Park community garden operated by the not-for-profit organization Capital Roots.
Here's the story of the 100th anniversary campaign in words and pictures:
Times Union (June 4, 2015) "Your Best Shot" column
http://www.timesunion.com/news/article/Capital-Roots-gets-garden-shed-6298113.php
Troy Record (June 6, 2015)
http://www.troyrecord.com/lifestyle/20150606/capital-roots-benefits-from-bennett-contracting-project
Times Union (June 11, 2015) "Capital Region Gives" column
http://www.timesunion.com/tuplus-local/article/Roots-deep-in-South-End-garden-6319923.php
Times Union (June 11, 2015) "Capital Region Gives" blog
http://blog.timesunion.com/giving/roots-deep-in-south-end-garden/2542/
Times Union (July 2, 2015) Congratulations ½-page ad sponsored by Harvey Building Products and Certainteed Siding (Page A-4)
Spotlight News (July 9, 2015) "Bennett Family Legacy Lives: Family Business Marks 100th Anniversary"
https://www.spotlightnews.com/news/business/2015/07/12/bennett-family-legacy-lives/
 Colonie Spotlight (August 12, 2015) "Green in the 'Hood"
https://www.spotlightnews.com/towns/bethlehem/2015/08/16/trend-urban-farming-growing-ever-quicker/
Time Warner Cable News "Capital Region Business Beat" (broadcast for 24 hours on September 13, 2015)
http://spectrumlocalnews.com/nys/capital-region/news/2015/09/9/bennett-contracting-celebrates-100-years-in-business
Congratulations on all the publicity! Glad we could make it happen for Bennett Contracting!
And now, a word from our client, Greg Bennett Jackson, president of Bennett Contracting:
"When I hired Pauline, I did it as a chronic skeptic, but I knew I had to do something because I was way out of my comfort zone trying to put together a 100th anniversary promotion. I had ideas but didn't know what to do with them. I interviewed a few people for the job and was immediately impressed by how organized and professional Bartel Communications was. I gave Pauline the contract, and the results have been spectacular! We were able to make a 100-year-old construction company interesting to the press and the public. I have been getting compliments on what a great job I did ever since. Of course, the real credit goes to Pauline Bartel. Best decision I ever made!"
Oh, Greg, you've made me blush! I appreciate your kind words about our hard work. Thank you!
Blogger Bio: Pauline Bartel, M.A., is President and Chief Creative Officer of Bartel Communications, Inc., an award-winning corporate communications firm. One of the company's specialties is business anniversary marketing.
Bartel Communications created "The Bartel Years™" and "The Bartel Years 200™," rosters of business anniversary symbols to inspire two centuries of business anniversary "sell"-abrations.
Through The Bartel Way™, an integrated marketing and public relations strategy, Bartel Communications uses business anniversaries as showcases for a company's products and services. This engages customers, drives sales and transforms the anniversary into a "sell"-abration. For further information, visit www.paulinebartel.com/services/corporate-services/business-anniversary-consulting