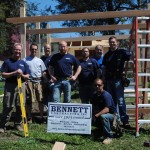 Time Warner Cable News reporter Jon Dougherty tells Bennett Contracting's story of beginning as a plumbing shop in 1915, expanding into heating and insulation services in the 1970s and evolving into the Capital District's oldest and largest full-service home remodeling company today.
This "Capital Region Business Beat" profile includes glimpses of artifacts from our client's early days, including a photograph of the original store front in Delmar, NY, and original contracts and invoices that Dan A. Bennett issued to customers.
His grandson and current company president – Greg Bennett Jackson – speaks about the 100th business anniversary community service project that Bennett Contracting completed for the Lincoln Park community garden in Albany's South End, where 52 families grow their own fresh food.
Watch the feature at this link:
http://www.twcnews.com/nys/capital-region/news/2015/09/9/bennett-contracting-celebrates-100-years-in-business.html
Blogger Bio: Pauline Bartel, M.A., is President and Chief Creative Officer of Bartel Communications, Inc., an award-winning corporate communications firm. One of the company's specialties is business anniversary marketing.
Bartel Communications created "The Bartel Years™" and "The Bartel Years 200™," rosters of business anniversary symbols to inspire two centuries of business anniversary "sell"-abrations.
Through The Bartel Way™, an integrated marketing and public relations strategy, Bartel Communications uses business anniversaries as showcases for a company's products and services. This engages customers, drives sales and transforms the anniversary into a "sell"-abration. For further information, visit www.paulinebartel.com/services/corporate-services/business-anniversary-consulting