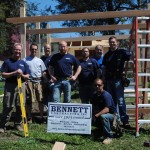 Bennett Contracting, Inc., began in 1915 when Dan (D.A.) Bennett opened a plumbing shop in a rented garage in Delmar, NY. A railroad steam fitter, Bennett saw opportunities in servicing the new technology of the times: indoor plumbing and central heating. Family members joined the growing company after World War II. In 1976, Gregory Jackson, one of Bennett's grandsons, was brought in to start the D.A. Bennett Insulation Company.
In 1984, Jackson and his business partner Paul Gutman expanded the company beyond plumbing, heating and insulation into a full-service home remodeling business and moved the company to its current location at 693 South Pearl Street in Albany, NY.
The Capital District's number one home remodeling company, Bennett Contracting has expanded their services to include windows, siding, kitchens and baths. With more than 60 employees and an extensive service department, Bennett Contracting can handle any home improvement project a customer has in mind.
Read all about Bennett Contracting's history and the company's 100th business anniversary community service project, as told by The Spotlight News.
 "Bennett Family Legacy Lives: Family Business Marks 100th Anniversary" (July 9, 2015)
http://www.spotlightnews.com/news/2015/jul/12/bennett-family-legacy-lives/?page=1&
"Green in the 'Hood" (August 12, 2015)
http://www.coloniespotlight.com/news/2015/aug/16/trend-urban-farming-growing-ever-quicker/
Blogger Bio: Pauline Bartel, M.A., is President and Chief Creative Officer of Bartel Communications, Inc., an award-winning corporate communications firm. One of the company's specialties is business anniversary marketing.
Bartel Communications created "The Bartel Years™" and "The Bartel Years 200™," rosters of business anniversary symbols to inspire two centuries of business anniversary "sell"-abrations.
Through The Bartel Way™, an integrated marketing and public relations strategy, Bartel Communications uses business anniversaries as showcases for a company's products and services. This engages customers, drives sales and transforms the anniversary into a "sell"-abration. For further information, visit www.paulinebartel.com/services/corporate-services/business-anniversary-consulting