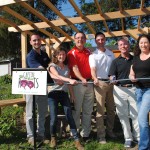 Tucked into a corner of Albany's Lincoln Park is a community garden, operated by the local nonprofit Capital Roots, where 52 families grow their own fresh, organic foods. For seasons, the gardeners had to cope with a tool shed with a leaky roof, a grape arbor that was falling apart and communal gardening tools that were broken and rusted.
To the rescue came Bennett Contracting, the Capital District's oldest and largest full-service home remodeling company, that wished to help the South End families build strong roots.
Third-generation owner Greg Bennett Jackson and a team of employees built a garden shed and grape arbor and replaced the gardening tools as gifts to the community garden in honor of the company's 100th anniversary.    
Since all of the Capital Roots' community gardens are managed organically, Jackson made sure to use cedar instead of treated lumber where possible for the structures. "Our 'Building Strong Roots' project demonstrates Bennett Contracting's belief that every project, no matter how big or small, receives our utmost attention and care," Jackson said.
At the May 14, 2015 ribbon cutting, Jackson accepted the thanks of Capital Roots' Executive Director Amy Klein and Lead Garden Organizer Tara Quackenbush. Jackson also expressed the wish that "our contributions to the Lincoln Park community gardens will allow families to grow build roots for years to come."
Bennett Contracting, Inc., began in 1915 when Dan (D.A.) Bennett opened a plumbing shop in a rented garage in Delmar, NY. A railroad steam fitter, Bennett saw opportunities in servicing the new technology of the times: indoor plumbing and central heating. Family members joined the growing company after World War II. In 1976, Gregory Jackson, one of Bennett's grandsons, was brought in to start the D.A. Bennett Insulation Company.
In 1984, Jackson and his business partner Paul Gutman expanded the company beyond plumbing, heating and insulation into a full-service home remodeling business and moved the company to its current location at 693 South Pearl Street in Albany, NY.
The Capital District's number one home remodeling company, Bennett Contracting has expanded their services to include windows, siding, kitchens and baths. With more than 60 employees and an extensive service department, Bennett Contracting can handle any home improvement project a customer has in mind. Visit www.bennettcontracting.com for further information.
Capital Roots is a 40-year-old nonprofit organization that nourishes healthy communities with 50 Community Gardens, The Veggie Mobile®, Healthy Stores, The Produce Project, Squash Hunger and more. Capital Roots recently opened The Urban Grow Center, a regional facility focused on urban agriculture and produce distribution to four counties, enabling Capital Roots to triple their ability to deliver local food and services to underserved neighborhoods and low-income families. Learn more at www.capitalroots.org
Blogger Bio: Pauline Bartel, M.A., is President and Chief Creative Officer of Bartel Communications, Inc., an award-winning corporate communications firm. One of the company's specialties is business anniversary marketing.
Bartel Communications created "The Bartel Years™" and "The Bartel Years 200™," rosters of business anniversary symbols to inspire two centuries of business anniversary "sell"-abrations.
Through The Bartel Way™, an integrated marketing and public relations strategy, Bartel Communications uses business anniversaries as showcases for a company's products and services. This engages customers, drives sales and transforms the anniversary into a "sell"-abration. For further information, visit www.paulinebartel.com/services/corporate-services/business-anniversary-consulting