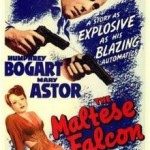 For the 75th anniversary of The Maltese Falcon, Turner Classic Movies (www.tcm.com) and Fathom Events (www.fathomevents.com) hosted a theatrical re-release of the 1941 detective thriller.
I couldn't wait for this film-noir classic, featuring Humphrey Bogart as Sam Spade, Mary Astor as Brigid O'Shaughnessy, Sydney Greenstreet as Kasper Gutman and Peter Lorre as Joel Cairo, to come to Saratoga Springs, NY. The film's showing at my local cinema on February 21 marked my first time seeing on the big screen "the stuff that dreams are made of." Other notable firsts associated with The Maltese Falcon include:
The first adapted screenplay written by John Huston as a solo screenwriter

The first film directed by John Huston

The first film appearance by veteran stage actor Sydney Greenstreet, making his Hollywood debut at the age of 61

The first and only uncredited appearance in a film by actor Walter Huston. As a gesture of good luck for his director son, Walter Huston accepted the cameo role of the ship's captain who staggers into Sam Spade's office with the black bird, drops the bundle and then dies.

The first and only Oscar nomination for Sydney Greenstreet. He was nominated for but didn't win in the category of Best Supporting Actor for his portrayal of "The Fat Man."

The first of two films featuring Humphrey Bogart, Sydney Greenstreet and Peter Lorre. (The second was 1942's Casablanca

.)

The first film version of Dashiell Hammett's 1930 novel that was a box-office smash. Two prior versions – 1931's The Maltese Falcon

and 1936's

Satan Met a Lady

– were disappointments.

 
Congratulations to The Maltese Falcon on its 75th anniversary! To quote Sam Spade: "You're good, you're very good."
Blogger Bio: Pauline Bartel, M.A., is President and Chief Creative Officer of Bartel Communications, Inc., an award-winning corporate communications consultancy. One of the company's specialties is business anniversary marketing.
Bartel Communications created "The Bartel Years™" and "The Bartel Years 200™," rosters of business anniversary symbols to inspire two centuries of business anniversary "sell"-abrations.
Through The Bartel Way™, an integrated marketing and public relations strategy, Bartel Communications uses business anniversaries as showcases for a company's products and services. This engages customers, drives sales and transforms the anniversary into a "sell"-abration. For further information, visit www.paulinebartel.com/services/corporate-services/business-anniversary-consulting