For the 20th business anniversary of Bartel Communications, I pondered how to use the symbol for that business anniversary year – china – to inspire a community service campaign.
The Symbols: To help companies develop inspired promotional campaigns for business anniversaries, we at Bartel Communications developed "The Bartel Years (TM)" and "The Bartel Years 200 (TM)," rosters of symbols for business anniversaries from 1 through 200. Download a copy of "The Bartel Years (TM)" by clicking on the link in the right-hand corner of this web page: http://www.paulinebartel.com/index.php/services/corporate-services/business-anniversary-consulting
China Inspiration: Inspiration sparked during a dinner with a business associate. Dorothee spoke about her volunteer work for the U.S. Committee for Refugees and Immigrants (USCRI) (www.Refugees.org/Albany) in New York's capital city.
"Imagine what it's like coming to a new country with your whole family but with only a few personal possessions," she said. "USCRI helps uprooted people rebuild their lives in America by giving them a fresh start when they arrive in Albany."
She explained that, as part of a USCRI team, she prepares new homes for vulnerable people from around the world, whose lives have been upended by war, violence and political unrest.
"We find an apartment for each family and clean it from top to bottom," Dorothee said. "Then we furnish the home with everything the refugee family needs to get started. This is our way of making them feel welcome in their new community."
Dorothee explained that USCRI accepts donations of new and gently used items for the kitchen, bathroom and bedroom. The organization also accepts donations of personal hygiene items, cleaning supplies, furniture and winter wear.
"Do these families need dishes?" I asked.
"Absolutely," Dorothee replied. "They need dishes, glasses, silverware, pots and pans, woks, rice cookers, cooking utensils, mixing bowls, can openers – anything you could think of that helps a kitchen function."
At that moment, I knew what I would do for my business anniversary.
"For my company's 20th business anniversary," I told Dorothee," I will donate dinnerware – china — for 20 refugee families." She was thrilled.
The Wish List: Following our dinner, Dorothee provided to me a link to the Amazon.com gift registry for USCRI where I found on its wish list a 16-piece dinnerware set in elegant white, providing a service for four. The set includes a dinner plate, dessert plate, cereal bowl and mug. Amazon.com ships the gift directly to USCRI.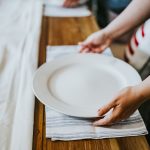 Because storage capacity is limited in USCRI's Albany warehouse, I've had to space my dinnerware donations to five sets per quarter. That means I can enjoy throughout 2017 the knowledge that my place settings are helping refugee families set a place at their first American table.
(Photo courtesy of Kaboompics.com)
Blogger Bio:
Pauline Bartel, M.A., is President and Chief Creative Officer of Bartel Communications, Inc., an award-winning corporate communications consultancy. One of the company's specialties is business anniversary marketing.
Bartel Communications created "The Bartel Years™" and "The Bartel Years 200™," rosters of business anniversary symbols to inspire two centuries of business anniversary "sell"-abrations.
Through The Bartel Way™, an integrated marketing and public relations strategy, Bartel Communications uses business anniversaries as showcases for a company's products and services. This engages customers, drives sales and transforms the anniversary into a "sell"-abration. For further information, visit www.paulinebartel.com/services/corporate-services/business-anniversary-consulting